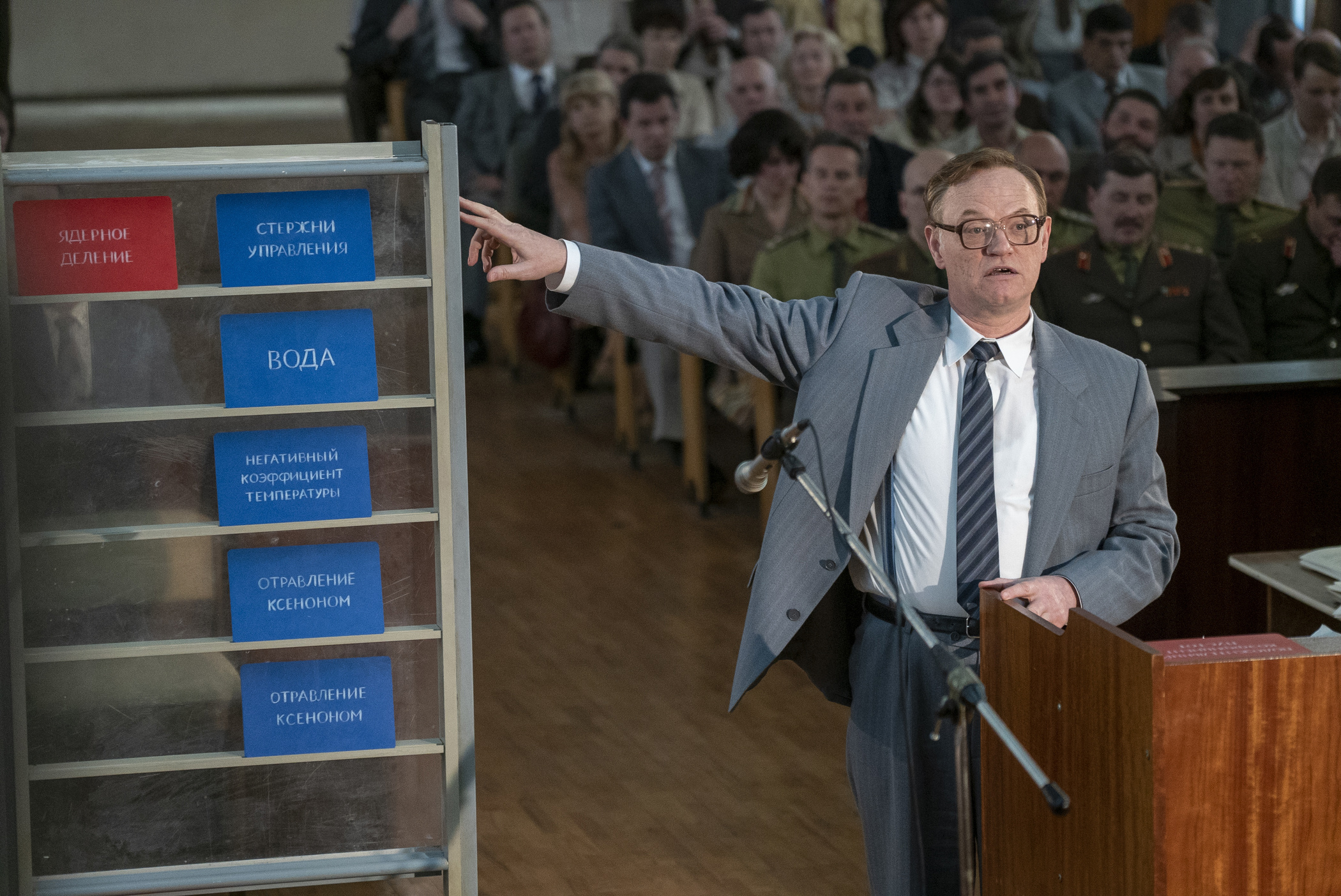 Chernobyl non arriva di certo al livello di popolarità di Game of Thrones ma la mini serie in cinque puntate sull'incidente nucleare del 1986 in Ucraina ha indubbiamente avuto un grande successo e raccolto
Visto che in Italia è in onda l'ultima puntata,
LA SERIA HA UN SORPRENDENTE LEGAME CON MADONNA E "UNA NOTTE DA LEONI 3"
Tutti gli episodi di Chernobyl sono scritti da Craig Mazin e diretti da Johan Renck. A prima vista questi nomi non dirvi un granché, ma-ASPETTATE UN ATTIMO:
E cosa c'entra Una notte da leoni 3 ? Be ', controlla la pagina su IMDB . È tutto vero. Qualcuno faccia un mashup di "Hung Up" e la scena in cui Shcherbina distrugge un telefono, presto!
LA SCELTA DEGLI ATTORI È INCREDIBILMENTE AZZECCATA
Su Reddit alcuni utenti hanno sottolineato più volte la somiglianza tra gli attori ei personaggi storici . E in effetti il ​​casting, i costumisti ei truccatori hanno fatto un lavoro davvero incredibile.
ANCHE L'ACCURATEZZA STORICA È SBALORDITIVA
In molti si sono chiesti se e quanto la ricostruzione storica della serie sia o meno preciso-tant Wikipedia attivo al disastro di Chernobyl sono aumentate vertiginosamente .
Slava Malamud, giornalista e professore di matematica nato nell'Unione Sovietica, ha messo su Twitter dei thread molto dettagliato su ogni puntata della serie, che potete trovare qui sotto.
Il documentarista Philip Grossman ha poi pubblicato su Twitter e Instagram alcune immagini di Chernobyl, che appaiono come la serie sia rimasta fedele alla storia anche in quei dettagli.
Per finire, Adam Higginbotham -l'autore del saggio Mezzanotte a Chernobyl -ha pubblicato un paio di articoli di fact-checking sulla rivista Inverse che vale decisamente la pena leggere.
IL PODCAST DI CHERNOBYL SPIEGA UN SACCO DI COSE
Se siete alla ricerca di maggiori dettagli sulla produzione di Chernobyl, allora è assolutamente ascoltato il podcast di Chernobyl in cui lo sono così Mazin racconta come ha realizzato la serie.
SE LA COLONNA SONORA È COSÌ INQUIETANTE, C'È UN MOTIVO
Intervistata dal podcast Score, la compositrice Hildur Guðnadóttir ha provato che lei e il suo team hanno registrato i suoni in una centrale dismessa in Lituania.
OK, E ORA UN PO 'DI MEME SU CHERNOBYL
Sì, hanno fatto dei meme. Su Chernobyl . Già.
Segui Peter su Twitter .